Lifestyle News
Make-up artist Rhylee Passfield created the Wonder Woman costume using a yoga mat
It took Rhylee Passfield around 50 hours to make the entire costume, it cost her only $30 (Rs 1,940). She managed to make her ensemble using easily available yoga mat as her base, which cost her $6 (Rs 388).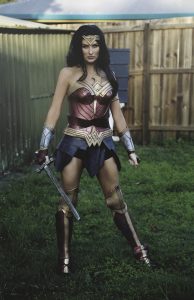 "Basically I started by duct taping myself then I cut out a pattern from the duct tape form, copied it onto a Kmart yoga mat and glued it together using contact adhesive," she told Daily Mail Australia.
She further elaborated that she used heat gun to curve the mat and made the designs on the breastplate with the help of fake nails. She then used thin craft foam to make the eagle and the belt. She finally attached the pieces together and used spray and hand paint to complete the costume. She did the same with the leg armour, gauntlets and headpiece.