Sanjana Sanghi and Sushant Singh Rajput starrer Dil Bechara is the Hindi film adaptation of John Green's best selling novel The Fault in Our Stars. The Mukesh Chhabra directorial will premiere on Disney+ Hotstar on July 24.
Dil Bechara would mostly be remembered as Sushant Singh Rajput's last film, but it also marks the first film of Sanjana Sanghi as a lead actor. The 23-year-old will be seen playing Kizie, a cancer patient making the most of her last days. She will cross paths with Manny (Rajput), who will bring a new ray of hope and love in her life.
Still trying to come to terms with the loss of her friend Sushant, Sanjana, Dil Bechara and  the roadblocks it faced and receiving love in abundance from fans.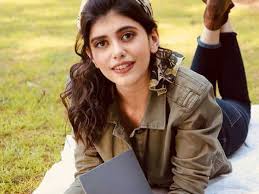 Both me and Sushant have known Mukesh for a long time in different ways. We have been in touch for more than 10 years, and he has been my acting coach. He had faith in me when I had none, and that's why it was all very organic for me. The bond we all shared and the energies, it was just right. It was very organic and balanced.
I just want to tell the audience that I am as much a Sushant fan as them. I was just luckier to have him as a friend and colleague. This is a huge gift coming their way, and they should relish and celebrate it as many times and on any screens.