Sports News
Trending
Shafali Verma's U-19 world champs would be called the WPL generation, as Virat Kohli's IPL generation wasIn days to come some of the girls would turn millionaires at the Women's Premier League auction and their lives would change, as was the case with Kohli's Class of 2008 U-19 World Cup winners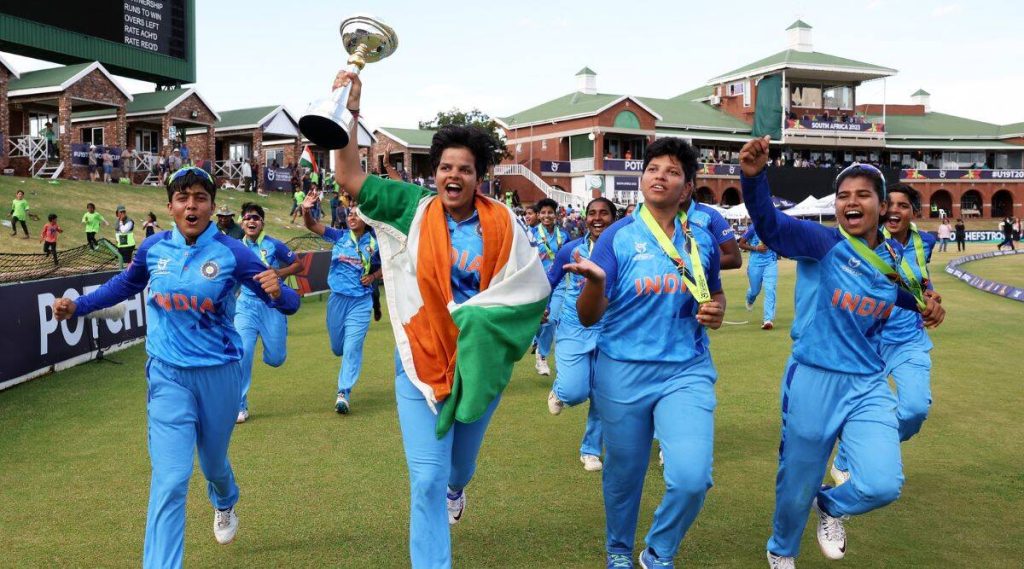 Guiding the ball past the point fielder, Soumya Tiwari ran frantically for the winning run that ensured India's 7-wicket hammering of England in the U-19 T20 World Cup final in Potchefstroom, South Africa.
Midway through her run, she raised her arms and waved towards the dressing room. Just as she completed the run and sank to the turf, her teammates and support staff swarmed her, screaming, fist-pumping, praying and crying. The commentators ran frantically for a byte. But all choked for words, stuttered and stammered as they put a line or two.
Coach Nooshin Al Khadeer somehow managed to say: "This is a moment we've waited for very long… we have a very good future." The demolition of England was so clinical and comprehensive that the team portends a bright future for women's cricket in the country.
In every facet of the game, they were miles ahead of the opponents. By the end of fourth over, new-ball bowlers Titas Sadhu and Archana Devi had England reeling at 16/3. Rattled by efficient spin-bowling on a slow track, England floundered, and eventually were wrapped up for a meagre 68 in 17.1 overs.
The aggression was relentless—Sadhu swung the ball wickedly into right-handed batsmen, Archana would tease them with her loopy off-breaks and delicious dip. Leg-spinner Parshavi Chopra, whose daily watch includes dozens of Shane Warne videos, tormented the English with her drift and turn. The left-arm spin twins of Mannat Kashyap and Sonam Sharma frustrated with stifling lengths.
The fielders would throw their body into the pitch, even on the shaved, grassless part of ground used as practice wickets. Both Trisha Gongadi, who scored a valuable 24, and Archana snaffled two stunning catches that would have made some of South Africa's legendary fielders proud.
The victory for these talented young women was more than beating the opponents on the pitch. Over the years, off the field, they had to fight multi-layered battles. They had faced rejections, discrimination, financial hardships and gender stereotyping. Therein perhaps lies a grander victory.
Archana's mother was blamed for sending her daughter on 'galat rasta (wrong path) in her hometown Unnao. But her mother, the family's sole breadwinner after her husband died of cancer in 2008, and brother stood firmly by her in her cricketing journey. Left-arm spinner Sona Yadav's father, who worked as a labourer in a glass factory in Firozabad, did not have the money to nurture his daughter's passion for the game, but he would put in extra shifts so that he could squeeze some amount for her daughter to buy cricket kit and shoes.
Vice-captain Saumya Tiwari was rejected by coach Suresh Chainani as he did not give training to girls at his academy in Bhopal after some girls dropped out of the academy. "But Saumya cried constantly for two days before we again went to the academy and urged sir to train her. He agreed," her father Manish Tiwari, who works as an election supervisor at the Bhopal Collectorate, says. Before she joined the academy, he would play with a wooden stick used to wash clothes and paper balls.
Similarly, lower-order batter Hrishita Basu, who has modelled her technique on her idol MS Dhoni, had to wait an entire day in the sun as she did not have Rs 20 the coach had demanded to pay if she wanted to bat. It's the tale of sacrificing parents too.
No.4 batter Trisha's father quit his job as a gym instructor in Badrachalam to relocate to Hyderabad so that the budding cricketer at home could be enrolled in a cricket academy. Wicket-keeper Richa Ghosh's father, a former club cricketer in Siliguri, would spend hours in the backyard giving throw-downs to her daughter so that she could accomplish his unfulfilled dream of wearing India colours. Spinner Kashyap's father ran pillar to post in Patiala in search of a coach, for no one would pick a girl.
For the players, parents, relatives and coaches, it is the culmination of a journey of sweat and tears, of hope and will. But when one journey ends, another begins. In a few weeks' time, some of them would turn millionaires in the inaugural players' auction of the Women's Indian Premier League. The WIPL could be a game-changer for women's cricket, and no generation of cricketers would benefit as much as the U-19 World Cup winning one of 2023, monetarily as well as stature-wise.
The reach and impact could be akin to that of Virat Kohli's band of 2008 U-19 World Cup winners. In the auction soon after their triumph, most became millionaires overnight, some turned out to be legends of the game and household names. Just as they are monikered "the IPL generation", the poster boys of the league, Shafali and her group could be called "the WPL generation.
The last half a decade has seen women's cricket unshackle from the clutches of mediocrity. In the last two editions of the senior T20 World Cup, India emerged semi finalists and finalists. But this evening in Potchefstroom, Soumya perhaps ran the most important run not only in her life or her teammates, but also in the history of women's cricket in the country.