Sports News
During the Asian Games, a thrilling shootout unfolded as Esha Singh orchestrated an impressive comeback, clinching the silver medal in the 25m pistol event, as observed by Mihir Vasavda.
Her father cleared his lungs in the stands amidst the Chinese din. She started badly, but made a stunning recovery to almost seize the gold.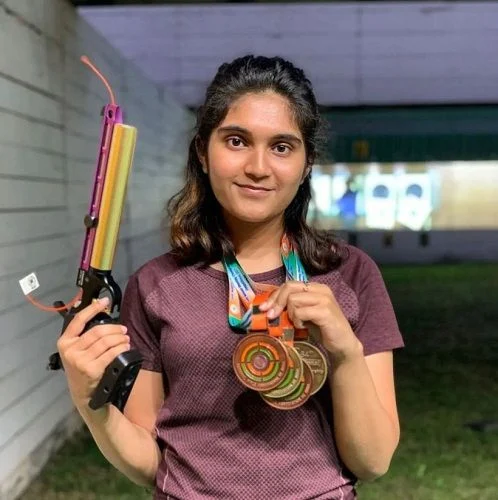 Cartridges flew around. Shots went missing. Scores were miscalculated. Favourites bit the bullet. Heroic comebacks were scripted.
After all the drama, it was a father-daughter duo that smiled the widest.
On the firing line, Esha Singh was hunting down her opponents with every bullet that left her pistol, and putting her Chinese opponent under increasing pressure. In the stands, her father Sachin was single-handedly drowning out the noise made by a thousand Chinese supporters.
He barked out instructions, shouted words of encouragement and whistled; a father's desperate attempt to assure his child she wasn't alone in an intense battle, in an intimidating setting of a nerve-wracking final.
It didn't matter to him that Esha couldn't hear a word. She had tucked in the earplugs, put the blinkers on and was unwavering despite multiple distractions and stoppages in a riveting 25m Pistol final that was halted twice – once because of a routine problem due to flying shells and then bizarrely for a shot that missed a target.
After a seemingly never-ending match with twists and turns after every shot, Esha finished with a credible silver, finishing behind China's Liu Rui who set a Games record en route to her gold medal.
The other Indian in the fray, Manu Bhaker – who shot an incredible total of 590 out of a possible 600 to top the 43-shooter qualification round – finished fifth.
There were times in the final when it looked like Manu would return with a medal instead of Esha. But the 18-year-old, mentored by Olympic medallist Gagan Narang, mounted a stunning comeback to leave behind her compatriot and her other challengers from South Korea and China.