Lifestyle News
Moschino's dry cleaning bag dress is selling over Rs 45,000
Italian luxury fashion house Moschino has broken all norms. A range of dresses, which were a part of director Jeremy Scott's trash themed fall/winter 2017 collection, has hit the market.
Captioned 'cape sheer overlay dress', the outfit is made out of transparent polyester and the website describes it as 'clear Moschino dry cleaning cape overlay dress is the only kind of laundry you'd be willing to do (for your trusty au pair takes care of that kind of stuff). This dress showcases the brand's economical Fall/17 runway theme and features a slip-on sleeveless design made from a see-through polyester re-used plastic bag that is printed with 'Free pickup and delivery' text in red and 'We *heart* our customers' across the top.
The price range of the product is astonishing. It is priced at 560 pounds, which equals approximately 48,000 in Indian rupee.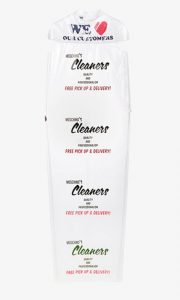 It isn't new for American designer Jeremy Scott to come up with innovative and bizarre ways of displaying his ideas and designs