Lockdowns and people being quarantined in their own homes have become the norm and probably will continue for as long as COVID-19 plays havoc in our lives. With all TV show and movie productions coming to halt, in the light of the global pandemic, many TV show hosts have taken to shooting their bits and interviewing celebrities from the comfort of their own homes and using video calling apps. Conan O'Brien has been doing the same and his most recent guest on video call was Game Of Thrones star Sophie Turner. Conan checked in with Sophie as to how she was dealing with quarantine.
To which she replied saying she was kind of loving it because she was an introvert and a homebody in the first place. She was super candid about how she was wearing a nice sweater on top but was still wearing pajamas at the bottom. She said she only goes out once a day to walk her dog.
Then, Conan went on to ask the actress as to how she and her Joe Jonas were dealing with quarantine, because many reports suggest as to how couples are finding it difficult.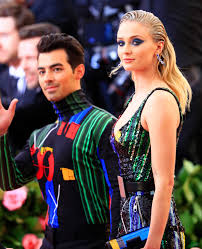 To which Sophie jokingly replied that she's struggling to lock him down and make him spend time with her as he is a social butterfly. She said, " It's like prison for him, but it's great for me."
She also revealed that Joe is using this time to pick up a new skill and he has been DJing. Sophie also said that She supports him by bringing him tequila while he's doing a set even if it's in the day because there are no rules in quarantine.