Total of 71 women participated in the beauty pageant that was won by Kylie Verzosa of the Philippines in 2016. 21-year old Lilliana said "It's like a dream come true. Indonesia, we made it,"
Indonesia's Kevin Lilliana was crowned Miss International 2017 on Tuesday at an event held at the Tokyo Dome City Hall.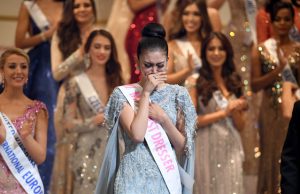 The other finalists of the 57th edition of the pageant included Chanelle De Lau from Curacao (first runner-up) and Venezuela's Diana Croce (second runner-up).Japan's Natsuki Tsutsui and Australia's Amber Dew, won the awards for best national costume and Miss Perfect Body respectively.
Lilliana also won the award for being the best dressed contestant.