Mr Fabb And A Fabulous Foray In The World Of Modelling And Entertainment
Tall, impressive, and striking not only describe his body of work but also his personality. He is the youth's heartthrob and girls swoon by his mere presence. Well, these lofty words are best to introduce the Mr. Fabb Mumbai winner – Akshay Raj Jawrani.
A man with big dreams and a go-getter attitude, Akshay Raj Jawrani was effervescent, right from the time he appeared for an audition for Mr Fabb Mumbai. The jury immediately knew he had it in him to make it big in the entertainment and modelling industry. He was amongst the thousands of participants who auditioned for Mr Fabb Mumbai title that year.
Best known as India's best make pageant, Mr Fabb is a brain child of Yash Bhuptani and Vaishali Varma. Mr Fab is known for its non-bias and exemplary selection and conduct in the male pageantry world. It is the only show in India which does city level auditions as well as city level finale shows in various cities of India.
Akshay Raj Jawrani – Winner Mr Fabb Mumbai
Even Eagles Need A Push
After being selected as one of the finalists for Mr. Fabb Mumbai his path to stardom commenced. The mentorship provided by Yash Bhuptani and Vaishali Varma laid the substratum in his career. His training and grooming days at Mr. Fabb sculptured his personality and personified it. Akshay Raj took great interest in perfecting his moves, his walks, and his presence on stage. Co-founder of Mr. Fabb and mentor – Vaishali Varma remembers Akshay Raj for his indomitable spirit towards learning and exploring new avenues. She says that Akshay Raj would spend minutes even perfecting a pose during his photoshoot.
Mr. Fabb has been synonymous with success and celebrityhood and Akshay Raj had the craving for it both. Through his sheer determination, grit, and confidence (and of course, killer looks), he went on to win the Mumbai edition of Mr. Fabb and was a unanimous choice by the jury members.
Good News! Akshay Meets Akshay Kumar On The Big Screen
Akshay Raj is here for the long haul and soon after bagging the coveted title of Mr. Fabb Mumbai, he began auditioning for TV serials and advertisements. With no dearth of talent or good looks, he became a regular in the modeling and advertising industry. Akshay Raj became a household name with his foray into television. He got substantial roles in Indian daily soaps – Kundali Bhagya, Kundali Bhagya just to name a few.
And then came some good news (literally), Akshay Raj was cast in a song alongside superstar Akshay Kumar. His presence with Akshay Kumar illuminated the screen and the superstar too had an amazing time shooting with the young and dynamic Akshay – Akshay Raj. The song went on to become one of the greatest hits of all time and has a whopping 370+ million views on YouTube and counting! Akshay Raj became an overnight sensation in Bollywood with producers and directors asking for this perceptible talent.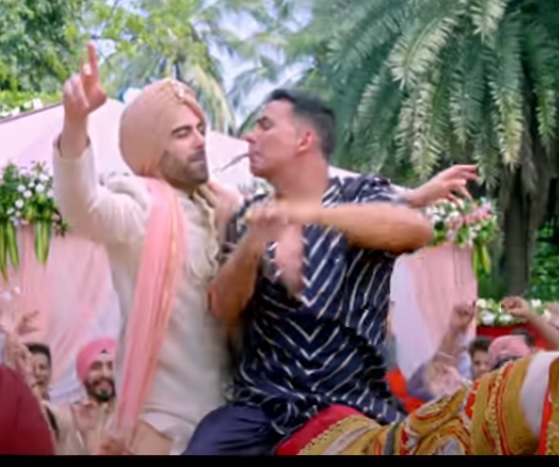 Akshay Raj is an ardent student of the art and craft of acting and leaped faith recently played a lead in a short film called – Unsuitables where his character has layers of modern-day emotions dealing with the complexities of same-sex couples. This short film is now nominated at various international film festivals such as Lift Off Film Festival U.K, BoyOhBoy Film Festival Paris, and many others. The short film has even been recognized by the LGBTQIA+ community.
Akshay Raj to date expresses gratitude to Mr. Fabb and his mentors Yash Bhuptani and Vaishali Varma who played a prodigious role in ushering his career path in the right direction and giving him the confidence and vision to accomplish his dreams.
Here is one account of Akshay Raj Jawrani who is creating stirs in the modeling world and Bollywood and whose beginnings root back to winning the coveted title of Mr Fabb Mumbai. As they say, "Success Is Where Preparation And Opportunity Meet".