Ryan Reynolds said he would like to slide into the DMs of Ranveer Singh, who had previously called the actor his Canadian counterpart.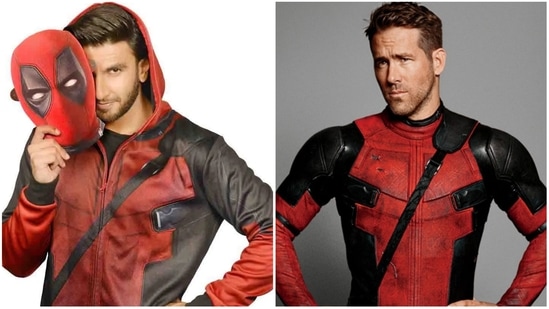 Ryan Reynolds has once again expressed his admiration for Ranveer Singh. The Hollywood actor said that he would like to slide into Ranveer's DMs (private messages), like many others in India. Ryan and Ranveer had previously also indulged in internet banter after the latter gave his voice to the former's character in the Hindi dubbed version of Deadpool 2.
Ryan recently joined hands with Rob McElhenney for Disney+ Hotstar series Welcome to Wrexham, which sees their journey toward becoming partners and taking over the ownership of the National League football club Wrexham AFC. Their journey of being business partners had originally started with a DM.
In a recent interview with India Today, Ryan and Rob were asked to name any Indian actor, whose DMs they would like to slide into. While Rob said that he won't take any names as his wife Kaitlin Olson would also be watching the interview, Ryan wasted no time in taking Ranveer Singh's name.
Ryan said, "Ranveer Singh for me," prompting Rob to say, "He would be the Ryan Reynolds of India, would he not, and vice versa." A modest Ryan replied, "I don't know if I am Ranveer Singh. I am trying to be." As per an India Today report, Ryan also said this about sliding into Ranveer's DMs: "Pretty sure everyone in India wants to do it too."
Previously in 2018, after Ranveer had lent his voice for the Hindi version of Deadpool 2, he had tagged Ryan in a tweet calling the actor his Canadian counterpart. He had written, "Astonishing how effectively I've managed to out-crass my Canadian counterpart @VancityReynolds. Never realised how fulfilling and rewarding foul Hindi language can be! #Deadpool2Hindi." To this, Ryan had replied, "Well if I tried to curse in Hindi, pretty sure there would be an international incident."