Entertainment News
In its attempt to court casual viewers, Netflix's tennis documentary serves drama, but leaves die-hard fans in the lurch
Break Point review: Following the F1 Drive to Survive template to the tee, Netflix's new tennis documentary series dumbs it down to the point of alienating its core audience.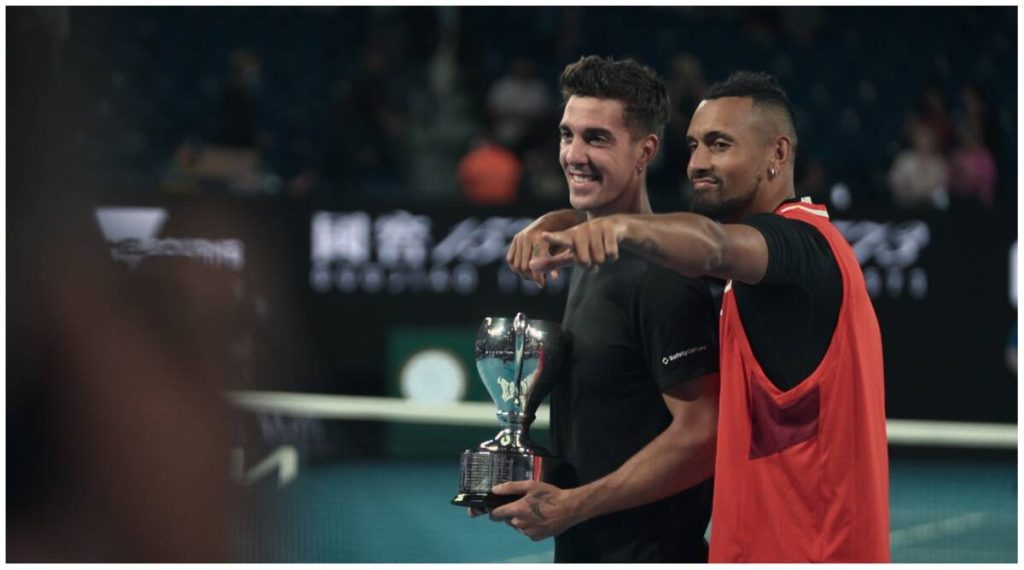 Call it a gamble or an intelligent bit of foresight, but the decision to focus entirely on the new generation of players instead of the old guard could prove to be Break Point's biggest double fault. From the folks behind the massively successful F1: Drive to Survive, Netflix's new tennis documentary aims to do for the sport what that show did for Formula 1 — it doesn't so much care for longtime fans as their marginally intrigued friends. Think of it like the desi diaspora introducing their white buddies to RRR and then watching it erupt from there.
But that would be an ideal scenario for Break Point, a show that dumbs it down to the point of alienating its core audience. Just to give you an idea of who it's really targeting, it routinely hits pause to explain how the tennis scoring system works. Attracting an entirely new set of fans to F1 was what Drive to Survive did so elegantly. And it makes sense for executive producers James Gay-Rees and Paul Martin to avoid trying to fix what isn't broken. Although there's one key ingredient of Drive to Survive's success that is missing from Break Point — an almost effortless ability to set up season-long narratives that conclude with satisfying pay-offs.
A major reason behind this could be the fact that Break Point is being released in two parts — the second set of five episodes will arrive only in June. What this leaves you with is the distinct feeling of having watched only the first act of a larger story, but more annoyingly, it leaves you wondering if there's a larger story at all. Could it be that even the rest of the show is as episodic as the first batch?
In fairness, Break Point plays its best hand right out of the gate. Episode one is dedicated, almost entirely, to the Australian wild card Nick Kyrgios. With the fiery temper and prodigious talent of the great John McEnroe but without even a fraction of his success, Kyrgios is by far the most entertaining player on the men's circuit — a once-in-a-generation phenom whose career has been marred by on-court implosions and a sense of apathy that would make Akshay Kumar sign six more projects as a mark of protest. At one point, the veteran champion Andy Roddick, who appears as a talking head throughout the series alongside Maria Sharapova and Chris Evert, describes Kyrgios as a 'part-time tennis player'.
And Kyrgios would likely agree. Forget mentioning the abuse allegations that have followed him around for several months, the show barely even acknowledges his problematic on-court behaviour, preferring instead to present him as some kind of misunderstood maverick — this is no doubt the image that Kyrgios himself would like for the public to buy into. So, we're shown glimpses of him with his family and girlfriend, and his mother appears occasionally, remarking about his childhood and rueing the moment he became consumed by angst. She never mentions the emotional turmoil that his actions have put her under.
Kyrgios is by far the most electric character on the roster, which also includes the Canadian prodigy Felix Auger-Aliassime and the Norwegian breakout Casper Ruud — polar opposite personalities that serve as a foil to Kyrgios' chaotic energy. Of course, a future episode will probably be devoted to the nasty rivalry that erupted between him and the stylish Greek champion Stefanos Tsitsipas at Wimbledon. But despite what a stinger promises at the end of episode five, it's still not clear where Break Point's priorities lie.
As a tennis show, it really doesn't do justice to the tactical complexities of the sport. The on-court sequences are edited in a manner that could appeal to the generation that has grown up on (or at least become accustomed to) TikTok in the last couple of years, and not to anyone old enough to remember when Gustavo Kuerten was world number one. Players in the show often talk about the loneliness of the sport, and how vital mental fortitude is to becoming a champion, but this is almost always communicated directly, and not via tennis. Kyrgios talks briefly about the pressure being labelled the sport's next big thing, and how it sent him spiralling for nearly a decade. Later, the Spanish player Paula Badosa — often described as the next Sharapova — opens up about her struggle with depression and anxiety. But Break Point doesn't devote nearly as much attention to this as two other Netflix documentaries, one of which focused on Naomi Osaka and the other on Mardy Fish.
Because the show can't assume that everybody watching is familiar with the sport, it can't get into the nitty-gritty of how matches are won. Instead, we're given basic information like 'tennis matches can turn on a dime', and gameplay is regularly interrupted by jarring exposition that is passed off as live commentary, but was clearly recorded in a dubbing booth once the edit was locked.
Like its namesake ZEE5 documentary series about the Leander Paes-Mahesh Bhupathi feud, Break Point would rather you connect with the characters than the sport itself. And to that end, it makes a feeble attempt at crafting a heroes and villains narrative, which paints Rafael Nadal's former coach Toni as a pompous blowhard, and more bafflingly, Rafa himself as a Terminator-like adversary. Did he turn them down for interviews? Because by most accounts, the (arguable) GOAT is one of the nicest guys on tour. But virtually every time he appears on screen, he's accompanied by ominous music, like he's Darth Vader or something.
Particularly hilarious is an episode five scene in which Rafa essentially defeats Ruud in the French Open final before they've even lifted their racquets. Tennis, it is important to understand, is only partially a physical sport. And Rafa famously has this effect on his opponents, many of whom are (understandably) intimidated by him as he launches into a ritualistic warm up session in the tunnel moments before being called out on court. Before grinding them to a pulp during the match, Rafa demolishes them mentally off it. To be clear, this doesn't make him a villain, but it certainly would've been interesting to get insights like this on the show, especially one that isn't really interested in shotmaking and athleticism.
Episode five is by far the most entertaining of the lot. You get the sense that the show has finally found its stride, having initially relied so heavily on the same editing rhythms that made Drive to Survive so much fun. Auger-Aliassime's awkwardness around Uncle Toni, for instance, after the legendary coach has said that he'd root against him, his new trainee, if he were to play against Rafa, makes for some terrific drama.
Rafa's absence, however, like that of his contemporaries Roger Federer and Novak Djokovic — together, they're three of the sport's greatest ever champions — is conspicuous. It's quite literally like making a documentary about Bollywood and leaving Shah Rukh Khan out just because Kartik Aaryan's future looks promising.